Woodworking clamps work as strap. There are so many types of clamps that are used to place objects tightly together in carpentry works. The common joiner or carpenters clamps are bar clamps, pipe clamps, c clamps, spring clams, hand screw, Band clamps, Miter clamps etc. The clamps come in many different style sizes. One clamp cannot perform so many works. Therefore a carpenter may needs more clamps but not too many. Here we peek some essential clamps for woodworking projects.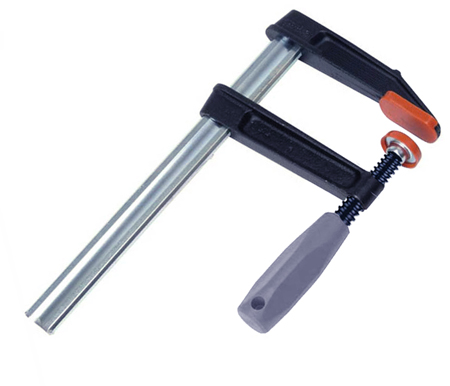 1. Woodworking bar clamps
Bar clamps are especially used for carpentry works to hold pieces of wood together for flagging, gluing, nailing and cutting. A carpenter can use these woodworking clamps easily and quickly. They can be divided for light duty, moderate duty or heavy duty. The common woodworking bar clamps are parallel bar clamps, f clamps, one handed bar clamps, Deep throat bar clamps etc. They contain a bar which is looking as like I-beam. They are great for accurate clamping pressure.
Parallel bar clamps
Parallel bar clamp is one of the significant clamps for woodworking. It has two rectangular jaws. One of them is fixed whereas the rest one is movable. They provide strong clamping force to the accurate directions which makes easier alignments. Reasons the jaws remain parallel. Some parallel bar clamps have configuration so that they can use as a spreader. They are available in various lengths.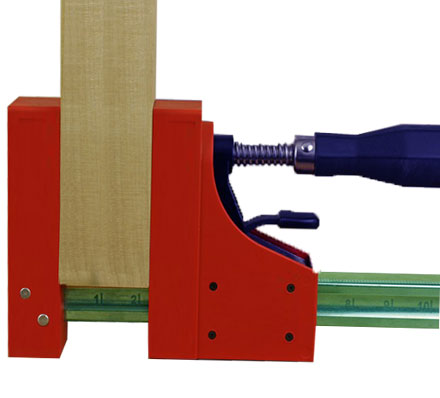 F clamps
F clamps is one kind of bar clamps which is suitable for a wide range of woodworking projects. It is designed with a slider bar which provides large opening capacity. Besides slider bar it also has two parallel bar and an adjustable screw. One of the parallel bars is fixed while another is moving. The adjustable screw is used for tightened. As the slider bar is smooth, it should be free from oil, graze etc. The name comes from that it looks like the letter 'F'.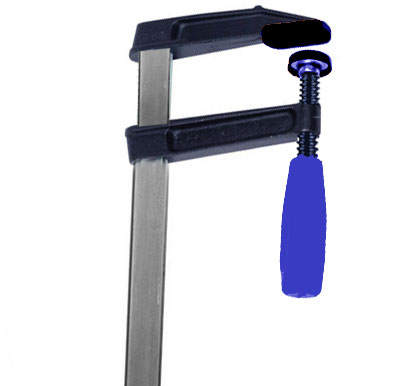 Deep throat bar clamp
Deep throat bar clamps is suitable for the work where extra deep reach is required home repair. They are very useful for high pressure application and wide opening capacity. They have versatile uses, so it will be great to keep in joiner's collection with other carpenters clamps. These woodworking bar clamps are available in different depth from 6 inches to 79 inches.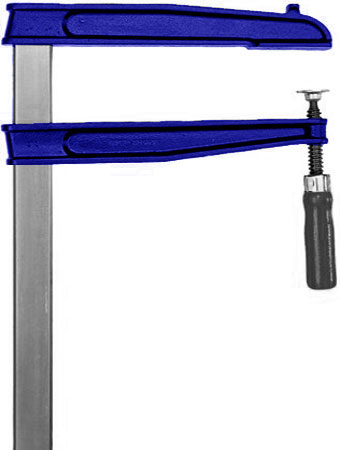 One handed bar clamps
One handed bar clamps has two jaw. One of them is movable and other is fixed. The movable jaw contains a trigger grip handle and a release lever. When the trigger grip handle is press then the movable jaw go forward to the fixed jaw and give pressure to the work piece. While the work is complete then the joiners just have to press the release lever to open the clamp. It is so easy that a joiner needs only one hand so other hand is free for holding another position of the work. One handed bar clamps has also a spreader function. For this the fixed jaw has to set another end of the bar. This facility can be used many woodworking project like cabinet, chair or tables making project. The available sizes are from 6 inches to 60 inches.



2. Hand screw woodworking clamps
The hand screw clamps are extremely versatile and wonderful tools. It consists of a pair of jaws, pair of handles, and pair of screws. Two handles are connected with screws. The screws are design with right-hand and left-hand threaded that run through both jaws and connected them. They are adjustable and control the movement of the jaws. You can easily clamp tapered, angle or offset of a workpieces. Normally the jaws are made of wood.

3. C Clamp
Each carpenter starts their clamp collection with a few c clamps. It has two parts; frame and threaded screw with Tommy bar. The name comes from the frame shape which looks like the letter 'C'. At the top of the frame has small flat edge whereas at the bottom has a threaded hole for holds threaded screw. On the other hand the frame side end of the screw contains a flat edge while the other ends contains tommy bar. These woodworking clamps made of cast iron or steel. Sometimes it is also refers as G-clamps or carriage clamp. It is an essential tool for joiners. They come in different sizes which also indicate the clamping capacity. It provides a massive amount of pressure into a small region. Therefore some project needs to use a piece of wood between the clamp edge and the surface of the workpiece to distribute the clamping pressure.


4. Pipe Clamps
The pipe clamps are composed of two heads, pipe, adjustable screw and handle. One of the heads or jaws is fixed whereas the other is moveable. The movable screw is control by adjustable screw with handle. They look like a bar clamp. The main difference between them is that it has a sliding pipe instead of sliding bar. So it has a long opening capacity which is related to the length of pipe size. It is less expensive then bar clamps but comparatively shorter length pipe clamps are expensive. They are various sizes and diameters such as 3/4˝ diameter pipe and 1/2˝diameter pipe.

5. Spring Clamp
Spring clamps looks like clothes clip. It has two jaws with two handles which are joined together by a spring. It is a small kind of carpenter's clamps and has a limited opening capacity. They are available in different sizes and styles. They are perfect for use in many woodworking projects like gluing and domestic tasks. Spring clamps are also known as hand clamps or pinch clamps. Some of them contain adjustable jaw.

6. Band Clamp
Band clamps are used for clamping round, square, oval, hexagonal, rectangular or other bend shape workpieces. They may contain flexible strap, and ratcheting mechanism or open end wrench mechanism. Mainly two type band clamps are available; ratcheting band clamp and non-ratcheting band clamp. Ratcheting mechanism band clamp has very easy tightened and release system but the non-ratcheting mechanism is very frustrating system. To secure workpieces the applying pressure should be simultaneous to all the directions. These woodworking clamps are cheap and provide light pressure.


7. Miter Clamp
Miter clamps are used for assembling miter joints. This tool set may contain a pliers and clamps. When the miter joints are gluing, it needs pressure to keep wood pieces together; miter clamps are perfect for keeping pressure on gluing miters. The clamp has two sharpen point. They can be spread up to 2 inches. A joiner can applied and remove them with their hand but it may not be in accurate places. On the other hand they can place it more accurately, easily and safely with pliers.

Without the above woodworking clamps, occasionally the carpenters may have to use masking tape, electric tape etc as clamp.
Conclusion
The woodworking skills of the joiners will be improved, if they use different woodworking clamps in their projects. Always select proper clamps for the project and wear safety equipment. After using some carpenters clamps, it may mark on the work, so in these case try to use pad to avoid marking. Do not use any spoil clamps. Always collect adequate number of clamps so that you can use exact clamps.